Outperforming Expectations: The Balkans
Each country in the CGGI is ranked on its individual merits, but one group of countries stands out for a strong performance, relative to income level: the Balkans – and in particular Serbia, Bulgaria, Montenegro and Albania.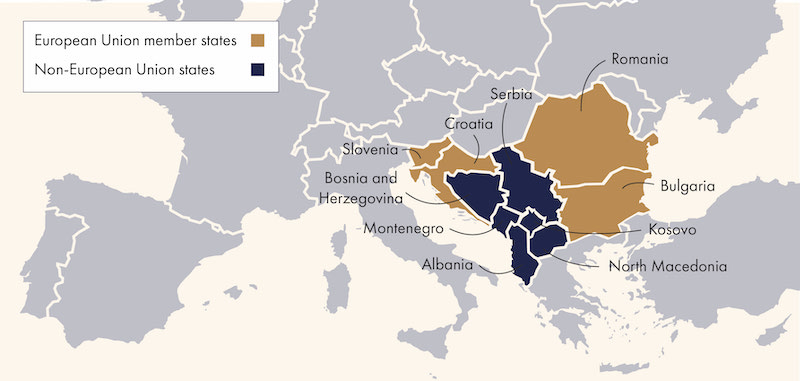 This region is achieving productive outcomes that are helping reduce income and gender inequalities, and improving the overall quality of life and security for citizens. Here we look at some of the recent structural reforms, policies and incentives that help explain this region's impressive performance.
Debate continues about what constitutes "the Balkans", but there is general consensus that the countries include those entirely within the Balkan Peninsula (Albania, Bosnia and Herzegovina, Bulgaria, Kosovo, Montenegro, and North Macedonia) and those partially within (Croatia, Romania, Serbia, and Slovenia). Some descriptions are based on historical and cultural factors while others focus on the violent conflicts and divisions of the 20th century. Those unfamiliar with the region might harbour outdated perceptions of these countries as being poor and recovering from either communism or violent conflict. However, strong progress has been made over the past decade. Countries such as Romania and Bulgaria became part of the EU in 2007, and Croatia joined in 2013. These countries have all raised GDP and overall standards of living. Slovenia was the first of these states to join the EU in 2004 and is a high- income country, ranking eighth in the CGGI's Helping People Rise pillar.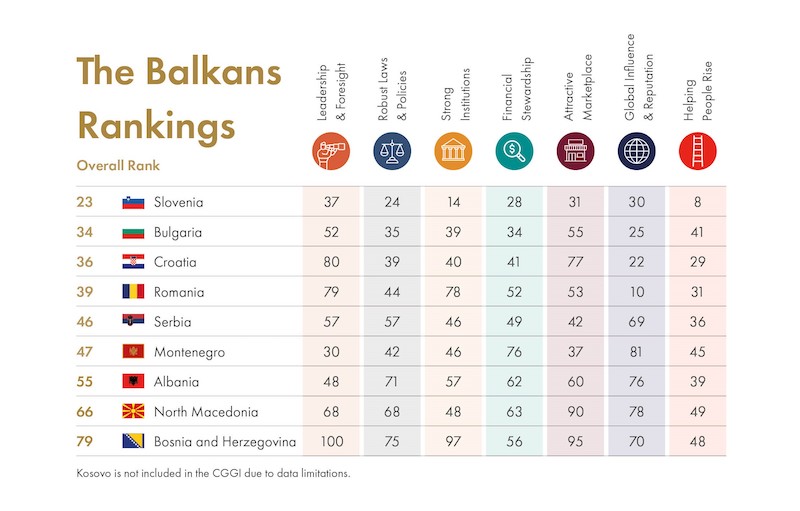 Less well-known is the progress of the Western Balkans. This includes Albania, Bosnia and Herzegovina, Kosovo, Montenegro, North Macedonia, and Serbia. Despite facing structural challenges common to post-war societies, these countries have reduced unemployment, improved healthcare and education access, and taken steps to close the gender gap. Such promising indicators of development are linked to post-war reforms. In addition, the prerequisites for joining the EU are considerable. They include having stable institutions that guarantee democracy, the rule of law, human rights and respect for and protection of minorities, as well as a functioning market economy and the capacity to cope with competition and market forces in the EU. The Western Balkans have made the most strides in implementing market reforms.
According to the World Bank, unemployment in the Western Balkans fell to historic lows in 2019. GDP growth over the past decade brought more people into the workforce, especially women and young people. Between 2016–2018 over 261,000 jobs were created in the region. While unemployment is still in the double digits, these advancements are impressive. Overall employment stood just at 39.5% in 2010 and is now moving closer to 50%. When the COVID-19 pandemic hit, these countries enacted policies to support enterprises and retain jobs.
In the healthcare sector, reforms across the region have focused on sustainable financing models and promoting more equitable access. Life expectancy in the region improved from 70 in 2000 to 76 in 2017. North Macedonia's coverage of essential health services is now only slightly lower than the EU average. All countries across the region have also encouraged the private sector to invest in healthcare, leading to higher-quality facilities and equipment.

Basic and higher education reforms have been a major driver of more equitable life outcomes. For example, Montenegro adopted a comprehensive strategy for early and preschool education from 2016–2020, resulting in greater access for the youngest of children. Albania aligned its education policies to meet European benchmarks. The region's universities are also part of the European exchange programme, Erasmus, which promotes international higher education standards. Despite challenges with equitable school infrastructure across socio- economic levels and increasing spending on schools, the region has focused on improving teacher training and curriculum development for basic education.
Ease of doing business is another hallmark of progress for the region. In North Macedonia starting a business takes just 14 days and the cost is limited to 1% of yearly average income. In Serbia it takes five days to start a business and R&D spending accounts for a healthy 1% of GDP. In science, the South East European International Institute for Sustainable Technologies (SEEIIST) has been established in Montenegro and is evolving into a regional institute to promote cooperation in cutting-edge scientific research, for example in precision radiotherapy.
The region has also made headway with closing the gender gap. For example, in Bosnia and Herzegovina more women complete secondary school and university than men. All countries have quotas for the political representation of women. Albania is addressing the endemic disparities faced by women, with recent reforms to support women in property registrations, non-discrimination in public procurement, and programmes to support female job- seekers and workers.
All these stories point to great headway being made by the region, to overcome its turbulent recent past and look to a more prosperous future.
More Stories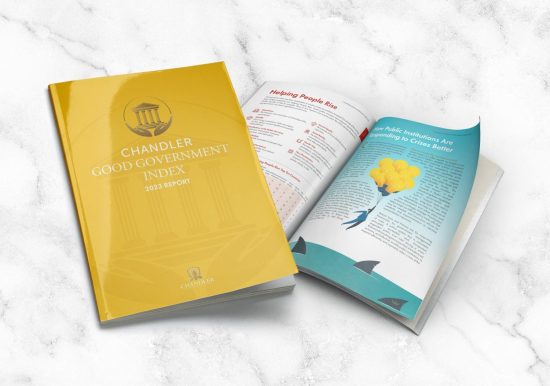 Country Stories
,
Opinion and Insights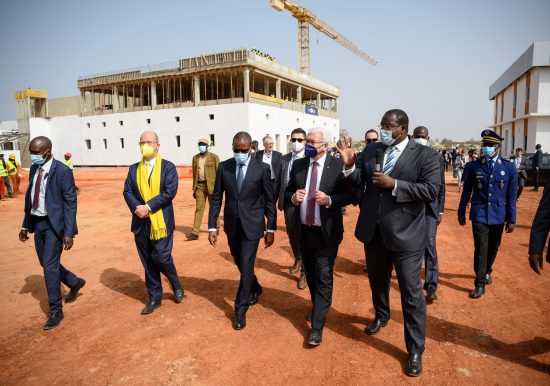 Country Stories
,
Opinion and Insights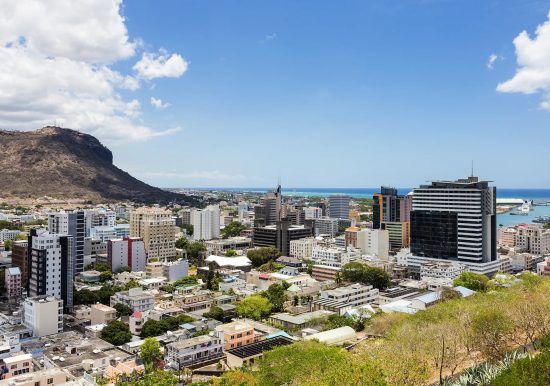 Country Stories
,
Practitioner Experience